Transporting your belongings from your current home to your new home is one of the most important things to consider when moving. There are three options available to choose from. Firstly, you can choose to do it yourself, do all the packing and move your belongings in your own car or hire a van. This option will probably involve several trips back and forward between properties and will be time consuming. Secondly, you can choose to get extra help from a man with a van, who will mainly assist with transporting your possessions for you. Or thirdly, you may want to look at hiring a removal company, that will make the process as stress free as possible. However, before investing in a service, it is essential to fully understand the critical differences between a man with a van and an expert mover.
Man and van
With a man with a van service, it is unlikely that they will have a lot of experience of large scale moves, so they are better suited for smaller moves. This service will probably be more used to move a couple of items e.g., moving out of student accommodation or a room in a shared house.
If you decide to book a man with a van, you are getting just that – someone to help carry a few boxes into their van for you and then deliver them to your new property. Also, having fewer employees means fewer people on the move, so be prepared to intervene to complete the move as soon as possible. Also, it is unlikely that they will offer any additional services such as packing or furniture dismantling and reassembling.
Most people choose to use a man and van service because of the cost. This type of service is usually a cheaper option; however, you should be aware that you may not get the quality of service that you actually require. In addition, they may not have insurance, which means that any damage to your possessions would not be covered.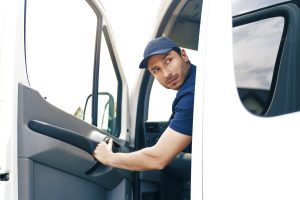 Professional removals company
One of the main differences between a man with a van and a professional removal company is the ability to accommodate moves of different sizes. Removal companies have much larger teams, larger vehicles and vast experience to handle all aspects of the move. Therefore, you can have peace of mind that your belongings are in the hands of experts, who will use their knowledge and experience to treat them with the utmost care. They also offer extra services, such as packing and disassembly/reassembly of your furniture, so the move goes as smoothly and seamlessly as possible.
Investing in a professional mover ensures that their staff are skilled, highly trained and experienced in home removal, and that even the most fragile items are treated with care. Most importantly, professional movers are insured to provide cover for loss, damage and negligence during work of up to specified amount of money giving you peace of mind.
How to choose between the two?
The solution is straightforward. The decision between the two is dictated by what you're moving. So, before you take the next step toward arranging a removals service, there are two fundamental things you should consider:
How large a van is required to perform your move?;
How many people would complete the work on time?
The man and van service is ideal when you have a few possessions that need to be moved or if you're a student and need to transport your bags to a friend's house or storage facility. As long as you are not moving your entire home, a man with a van is ideal for small moves and is considered an economical and effective solution.
Suppose you're moving a piano or another heavy item that requires special attention when loading and unloading. A man and van service isn't the greatest solution. You and the new friend with a van will be unable to load that item securely. So, you need to look for the services of a professional.
Sold your house?
In the UK, when you sell your property, the sale completion and moving takes place on the same day, and your old property has to be emptied of your possessions by around lunchtime. Failing to do so causes chaos within house chains and other removers. So ask yourself, if that is something that a man with a van can realistically achieve, or should you be hiring a professional removal company with the correct manpower, equipment, size of vehicle and experience?
Questions to help you determine what you require
If you are unsure about whether you should hire a removals company or a man and van, ask yourself the following questions:
Q: What is the volume of the items you wish to take with you?
A: If you do not have many items and are only taking a few pieces of furniture or several boxes that can fit in a smaller van, then a man with a van is good for the job. However, if it is a full house move and it involves handling larger pieces of furniture, then you need to consider hiring a professional removal company.
Q: Do you have any large items that need to be moved?
A: With a man and van service, you will receive one or two professionals to assist you with loading, so you'll need to find an extra set of hands. When you hire a removal company, you can get a larger crew of people as well as a larger van.
Q: How much effort are you willing to put in?
A: If you hire a man with a van service, be prepared to get your hands dirty. You may, however, avoid this headache by employing a full-service removals company instead.
Q: How many journeys do you intend to make for the move?
A: If you answered more than once, you most certainly need a removal service with a larger van.
Q: Does money play a role?
A: Would you instead save money or have the added assistance of experienced specialists during a stressful time?
Conclusion
When deciding between the two options, it's important to choose carefully. Weigh up the options and services you need for your move, talk to different companies to see how to make your move easier and to get the best deal possible.
At City Removals East Midlands, we go one step further to ensure that your entire move goes according to plan. Our trained professionals can arrange a free no obligation home visit to assess the size of the move and provide a quote. We provide extra services, such as professional packing, furniture dismantling and reassembling, and all your belongings are insured against loss or damage. Get in touch with our friendly team today by phone or online for more information.